Lei Yue Mun Seafood Bazaar
Most people associate seafood with Lei Yue Mun because back to 1992, a Seafood Festival was held in here. It was widely successful and since then Lei Yue Mun has got the fame for seafood paradise.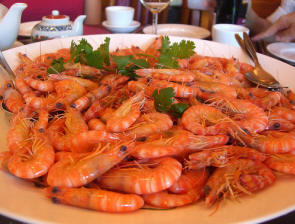 There are over 20 Chinese seafood restaurants in Lei Yue Mun. The majority of them are clustered around Praya Road near Sam Ka Tsuen.
Where is my seafood?
You can get the best seafood in Lei Yue Mun because you can choose your seafood while it's live. Go to a live seafood stall, pick your choice of fish, prawns, crabs or seashells. Take them to the restaurant and tell them how would you like to cook it. Detailed guidance on choosing your seafood here.
How to choose a seafood restaurant?
Look for this symbol outside the restaurant. Restaurant accredited with this Quality Tourism Services (QTS) symbol means they have passed the standards required by the Tourism Board.
This area is also known as the Sam Ka Tsuen Seafood Precinct, because it is located in the Sam Ka Tsuen or village.
Lei Yue Mun - The Definitive Guide - Gett here - Seafood Bazaar - Dining - Fishing Village